Voices.com
Voices.com needed extended B2B E-commerce offerings and workflows for Professional Voice Services, and Up and Running helped them build a scalable, maintainable, and flexible platform.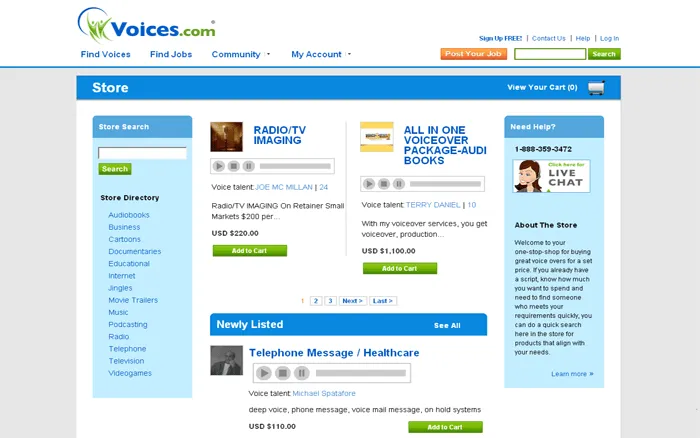 Image source: http://voices.com/
Voices.com is the online marketplace where creative producers search for, audition, and hire professional voice-over talents. The marketplace connects buyers with sellers of custom voice-over recordings for broadcast, mobile applications, video games, audiobooks, new media, film, and telephony. Voices.com's unique online marketplace brings together the participants to conduct business simply and efficiently and safely. Unique features and benefits include:
Access to 30,000 voice actors representing more than 100 languages.
Projects are completed in 24-48 hrs, usually cutting production schedules in half.
Financial transactions are processed securely online, taking the complexity out of paying voice actors.
For Voices.com, we created an entire shopping cart system to integrate with the jobs process, the chief revenue-generating process of the website. The cart uses modern technologies such as RIA, advanced JavaScript, and OOP PHP to provide a seamless cart-to-job process, track statistics, and provide featured, newly-listed, and just-purchased items for each visitor's viewing.
Job Details Workflow - Payments, Emails, Amazon S3, & More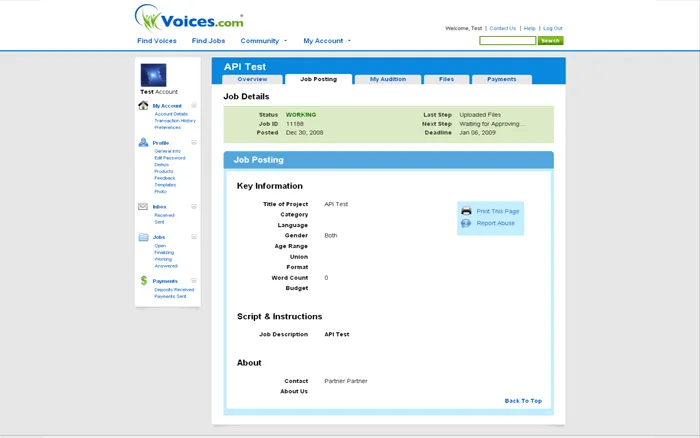 Image source: http://voices.com/
The jobs process for Voices.com is complex as multiple members are able to participate in a single job, each having individual milestones and separate actions to complete based on roles. The job is managed each step of the way by the system, allowing for custom processing, alerts, and interaction from many users at each step. The payments are tracked by milestone and member. The page is packed with functionality: from AJAX notifications and JavaScript menu systems to email notifications, payment systems, Amazon S3 file uploads, and messaging system functionality.
Administrative Features for Managing Business & Support Operations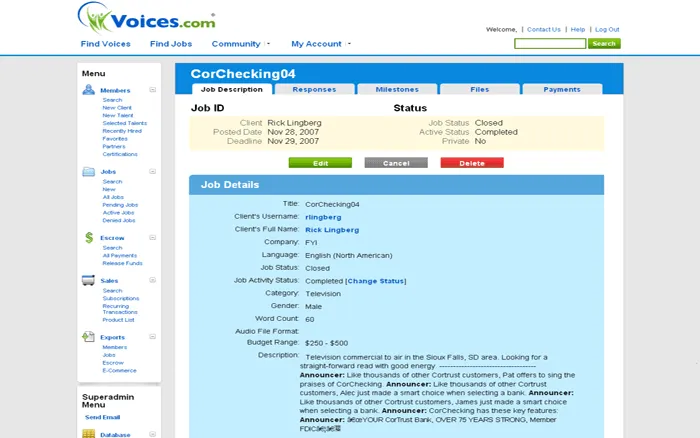 Image source: http://voices.com/
For Voices.com, the admin section allows complete control over almost everything on the site. It supports the ability to accept phone payments, move a job to the next stage, make a correction for a customer, add new members, export data lists, and track sales. It was designed to reduce the need for technical support for the site and from the IT department. The admin section utilizes AJAX, JavaScript, and PHP technologies to give the administrator everything needed to make the site run smoothly, all easily accessible from a single dashboard.
Adding a Member using Administrative Features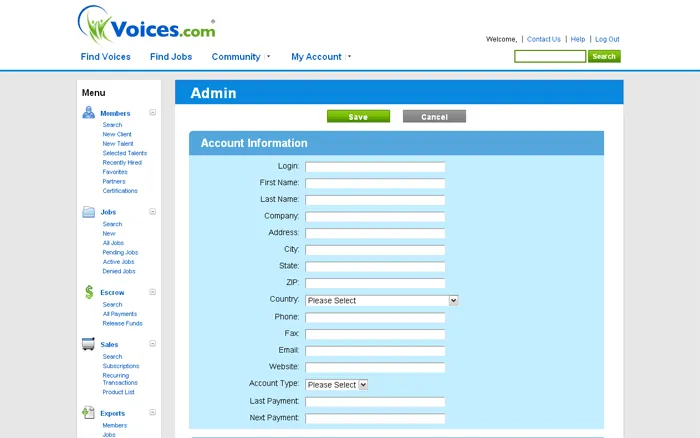 Image source: http://voices.com/
The form above was designed for an advanced set of users that want pure functionality for simple entry of data that's required and desired for a new Voices.com user. The form has the proper error validation one expects in all forms. In summary and simply, it's a good example of doing what's needed by specific users to do a specific job.
We invite you to browse more portfolio selections by clicking a logo below:
Logos owned by respective owners. Presence does not indicate a partnership or endorsement. Customers served directly, or through collaboration with other firms.