Portage Health
Portage Health needed a custom Internet and intranet solution to interact with all stakeholders, from patient to physician. Using a full suite of technologies, we delivered a powerful and customizable solution that interacted with their current systems and used the same database to drive external and internal workflows.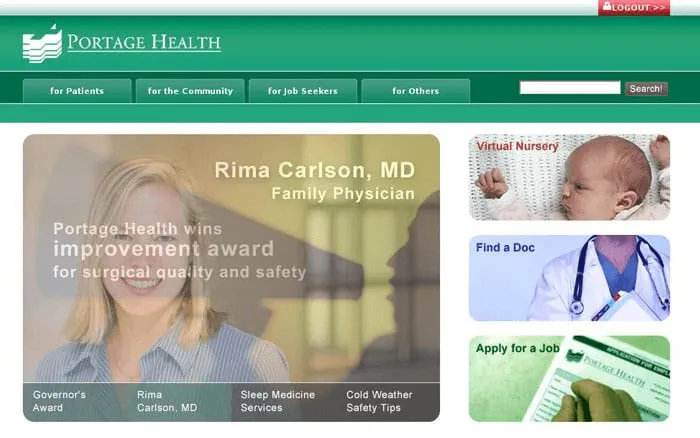 It's easy to define and create for yourself. It takes time to learn what is best for the people who will use the system and then do that in an iterative and participatory manner, which is what we did for Portage Health.
Through a simple management interface where a user uploads four images with associated links, a user can manage the front-page news rotator. This fades through the images, and allows the users to click on the main image or any of the smaller tabs to go to the associated article immediately. This was well received by both Portage's team and the user community. We were pleased with the results of this solution because it met the users' needs in a simple, usable manner.
Intranet & Permissions-based Driven iGoogle Widgets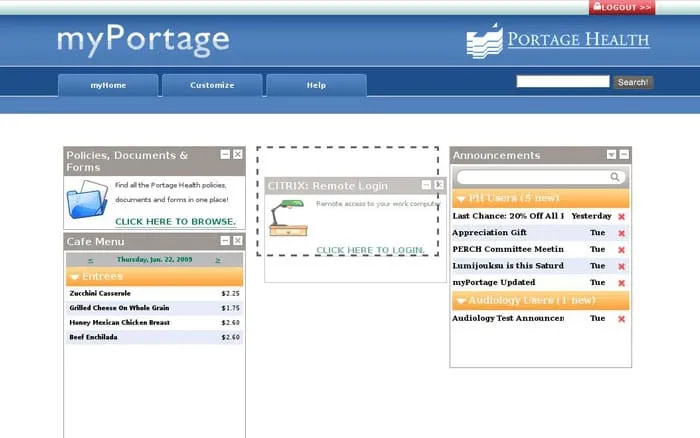 The myPortage home page is a centralized location where customizable widgets that contain common functions and access to internal operations can be added, removed, and arranged to the users' preferences in a real-time interface that operates more like computer-based software than a webpage. (At the time, Single Page Applications (SPAs) were not so popular. Today, we have several clients who have invested heavily into their SPAs given the great user experience the approach provides. Here are some related JavaScript case studies.) Access to the software is controlled via a single sign-on system using Windows Server Active Directory accounts; the IT department really likes this as it reduces their maintenance expenses for this system and increases security as authorization and access are being driven by a single location.
Custom Workflow for a Cafe Menu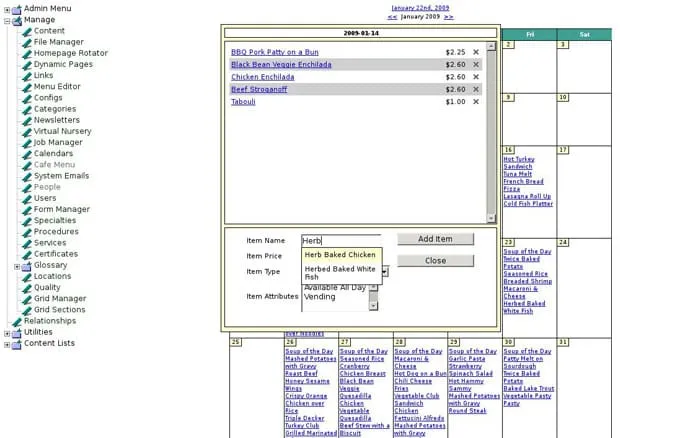 Displayed above is an interface for managing the menu listing for the Portage Health Cafe. Its goals were speed, usability, and management from a single screen, and all goals were accomplished. We measured the speed by observing the users using the system throughout several iterations of the design. In a similar fashion, through observation, we learned if the system was usable as well; we also learned this by simply asking the users what they thought of the system. Here's how the system works: clicking on any day displays a window where the user can type item names to find saved items or create new items by entering a new name. Price and item type can be changed for existing items by changing the parameters that exist on the interface screen. Changes to an existing item create pricing rules that affect the item's price only for that day. New items will have their default values set upon creation; this approach allows the user to do all of the normal operations quickly, without having to work in other interfaces. Advanced options for items such as pricing rules for date ranges can be changed through similar seamless interfaces.
Administrative Features, Custom Workflow, & Menu Manager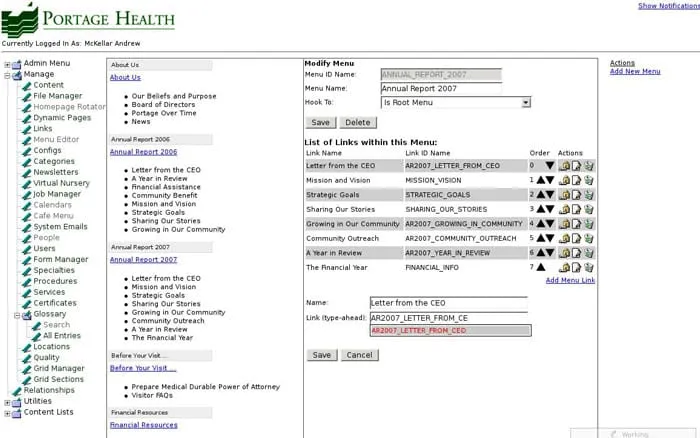 The menu manager is a powerful administrative tool that enables users to manage all of the menus on the website. It uses a link manager to, by design, reduce the opportunities for dead links, and, by design, ensure that links are named in a structured manner according to Portage Health's preferred taxonomy. It's a spartan, functional design, and that was intentional because that's how the users wanted it.
Portage Health - Human Resources Operations Improvement, Job Finder, & RSS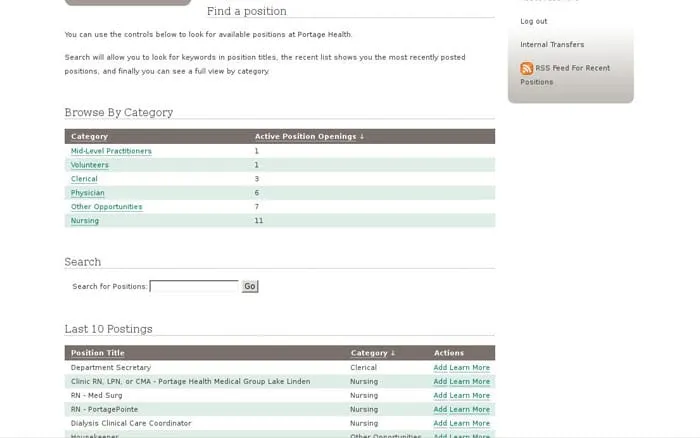 With our work, Human Resources can manage all available job postings and requirements through a management console, which updates the public website's job listings. Once signed up, a candidate can upload resumes, apply for positions, get updates for positions applied for via email and be kept up-to-date on new job additions through job posting RSS feeds. There is also a candidate management portion of the workflow that allows Human Resources to track the candidates' progression through their customized hiring workflow. The states or process steps available in the workflow are customizable, and different states can drive different actions and alerts.
Active Directory Integration, SSO, & Widget Browsing Management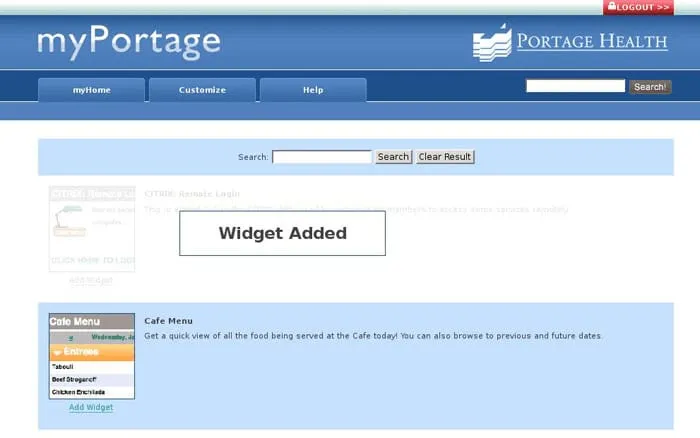 The widget library page allows users to browse and search through the library of widgets they have access to. Access and visibility are set by Active Directory groups, and each user's access is decided by which Active Directory groups they belong to. Portage Health wanted integration with Microsoft Server's security and permissions management system so they would only have to manage this information in one location. This reduces complexity in maintenance, and ensures security in an environment where security is of the utmost importance.
We invite you to browse more portfolio selections by clicking a logo below:
Logos owned by respective owners. Presence does not indicate a partnership or endorsement. Customers served directly, or through collaboration with other firms.