Leadership Team
Up and Running Software's roots lie in martial arts as much as technology. CEO Ian McKilligan and founder Peter Hanson met in Husky Tae Kwon Do and trained together for years, earning second-degree black belts. Along the way, software and business were common topics of conversation. Ian soon joined Up and Running, and together they built a company based on mutual values. Meanwhile, Up and Running Software has grown with the addition of team members who share those values and a passion for software development.
Ian McKilligan, CEO
As the Owner and CEO of Up and Running Software, I am always looking to better myself and apply the learnings of those I have a great deal of respect for. I try to apply business concepts that I have learned from the likes of Peter Drucker, Tom Peters, Marshall Goldsmith (met him once at the Ross School of Business), Jim Collins, and more. I also blame and thank my grandfather who bought me a subscription to Forbes when I was around eight years old.
Besides hoping to help others through my company, I've tried hard to help people within my company with whatever they might need. Every person is different, and I view it as my job to help them do what they want to do how they want to do it. With most people, I just need to provide the means, education, or resources, and then get out of their way. By design, we have a very flat organization, and anyone may contact me for any reason at any time, which is the same approach we take with customers.
I started out in Finance, but quickly realized my path was intended to go in a different direction and changed to MIS after taking a COBOL course, which my programming time on my TI85 and Commodore 64 lightly prepared me for. Software was interesting then in what it could do at the time. Now, IT is even more interesting and evolving so fast and we're experiencing the effects of that in such an accelerated manner that it's just amazing to be a part of it. We used to have to run our systems in a rack, and I personally bought the air conditioner and UPSs for it. Now, we're helping clients make IoT systems that help anyone in the world communicate with devices to do just about anything they want to have happen; helping clients with chatbots, AI, and VR; and putting our time into making custom systems that sing just as our customers want them to. The problems are not systems now or even the Hows usually, rather the more nebulous and tricky people and organizational issues that education, processes, and good communications can lead and manage away. Once we get past those, we can make more of the forecasts of futurists and science fiction authors come true. (Well, hopefully not all of them…)
Overall, I'm a business and IT generalist, and I rely heavily on the specialists in my company to get the real work done. I'm thankful to have met some great people who want to build together. I'm also thankful to many of my professors and customers who taught us so much. If you have questions or would like to discuss anything, I'm an email or call away.
Read more
Tim Chamness, VP of Software Development
Growing up in Holland, Michigan, my software path began early, teaching myself programming in middle school to the point that I could pick up freelance work throughout high school. I attended Michigan Technological University, completing my Computer Engineering degree a semester early. While there, I rebuilt the Broomball website and management application from scratch, the core of which is still in use.
I joined Up and Running Software in 2008 as a developer and have since grown with the company, both professionally and personally. Currently, I'm VP of Software Development, which includes serving as a Senior Development Architect for several internal and external software projects and a systems administrator for several internal systems and production client servers. In the time since I've joined, I've led two of Up and Running Software's biggest multi-year projects, among others. (One of which is Passare, which you can read more about here.)
What I enjoy most about being a part of Up and Running is the variety that comes along with it, all while working remotely. The exposure to many different projects, industries, and technologies is valuable and illuminating.
One of my goals is to help people use technology to achieve theirs. My skill set includes languages such as PHP, SQL, CSS, HTML, JavaScript, as well as relational database design, code architecture design, version control (Git & SVN), and quality assurance. I consider myself to be good at coming up with solutions for technical problems even when faced with significant constraints.
Outside of Up and Running I mentor a FIRST Robotics team during the school year. FIRST Robotics is a high school robotics competition that helps students gain real-world engineering and programming experience. Given my own background, I know that every bit of real-world experience can make a big difference. My mentoring work involves training and helping the students program and wire the robots, as well assisting logistically with getting them to competitions and chaperoning.
During the robotics off-season, you may find me kayaking or jet skiing on nearby Lake Michigan, or, when the weather is less agreeable, honing my culinary skills in the kitchen.
If you'd like to discuss your ideas or needs as they relate to tech or your business, please feel free to contact me here.
Read more
Patrick Gerzanics, Software Development Architect
Throughout my life and career, I've been primarily interested in two things: technology and entrepreneurship. I grew up in SE Michigan as the prototypical nerd, albeit vertically stretched (always been tall—ended at 6'7"). I combined this interest in technology with an entrepreneurial spirit: Selling Costco candy at a significant margin on the bus to school, typing reports for payment, etc. These days I'm the father of a similarly tech-minded youngster and a wife who questions if our household items couldn't be just a little simpler. On the weekends I look forward to playing with my son, watching Michigan football, as well as woodworking.
I started "coding" at a very early age, learning to type on our TI99 by entering TI-BASIC programs and tweaking them to see what happens. Soon after we got our first 286 and I started exploring C and assembly for game programming, cementing my love of technology and computer games. From that point forward I was looking for all the programming books I could find.
Professionally, I started writing software in C/C++ for LED readerboards as my first programming job when I was 16. I then went to the University of Michigan to get my BSE in Computer Engineering and worked throughout at several startups and a custom software company a friend and I founded. After I graduated I founded a new startup with 3 partners focused on creating a multi-platform competitor to MS Exchange for the synchronization of personal data. That product had a fairly successful run, selling a little over $1M in software licenses and resulted in a revenue-share buy-out. Following that acquisition, I went on to work with another partner on a pay-per-click ad server competing with Google Ad Sense in niche markets. The ad server product was modestly successful with our biggest customer serving over 2B ads/day with thousands of advertisers and publishers. I worked with UAR on a part-time basis off and on throughout the years as my businesses fluctuated, so it was a natural choice when I was looking for something more stable.
These days I enjoy providing both technology recommendations and services as well as sharing what I've learned (not to do in some cases!) over the years in my own ventures. I've always found that I'm much more of a builder than a visionary and really enjoy helping to bring the ideas of others to life with Up and Running's talented developers; be it a cryptocurrency platform, machine learning projects, heavy machinery optimization or EMR solution. I've worked in many different languages and technologies over the course of my career (C++/Java/PHP/Python/NodeJS) and am always trying to find time to learn the newest and greatest to see how it can improve work for our customers. At the same time, I have also learned that newest doesn't necessarily mean best and it is always a balance between stability and development velocity.
If you think that I can assist you with building an MVP of your concept or improve the scalability and feature-set of an existing application, feel free to contact me here.
Read more
Vojislav Babic, Lead Software Developer
I was born in Sarajevo in Bosnia and Herzegovina (part of the former Yugoslavia) just before the Olympic Winter Games in 1984. My curiosity for computing and technology started at an early age, and I quickly knew that I had found my passion. I eventually earned a master's degree in information technology and have enjoyed an extensive career in software development. I'm currently a team lead at Up and Running Software, where I'm responsible for translating clients' business needs into usable software and interfaces.
I started computing on the Commodore 64, followed by my then-neighbor's Intel 286. During elementary school, I also experimented with Intel's 386, 486, and Pentium I. To this day, I still look back at the time when I got my first personal computer, a Pentium II with Windows 95, as one of my most-memorable and happiest moments.
After much experimenting, I wrote my first piece of code in the mid-nineties using QBasic and Turbo Pascal. My interest in developing web technologies blossomed after this, and I built my first web page in Microsoft FrontPage with JavaScript. Though I have a passion for coding, my interests span beyond writing code alone. I'm an avid gamer and have even developed a Space Invaders-like game using Turbo Pascal. Additionally, I enjoy video editing, post-production, and anything else tech-related.
I've had the opportunity to work with some very interesting employers throughout my career, including one of the largest banks in Europe and various startup projects involving cutting-edge technologies. I joined Up and Running in 2013 and have since been part of the team.
One of the things I appreciate about working at Up and Running is the focus on trust and the freedom to work whenever and wherever is best for me as long as the work is done and the client is happy. This allows me to accomplish my work while also pursuing my love for traveling, meeting new people, and experiencing new cultures.
Outside of Up and Running, I'm a father and husband and I appreciate spending time with my family, cycling and hiking during the summer, and snowboarding during the winter.
With a broad variety of interests in and experience with all types of technology, I would be glad to discuss any software-related question you'd like another set of eyes for. Feel free to get in touch anytime.
Read more
Michael Teager, Business Manager
I manage business operations related to accounting, marketing, staffing, and more. If it's not related to building or designing something directly, I'm here to help in some fashion. I grew up in Muskegon, MI, but after stints in Texas and elsewhere in Michigan, I now reside in Buffalo, NY with my wife, an orchestra teacher, and our son, a budding cellist.
I received my master's from Michigan State University's College of Music. After graduating, I taught at MSU and Spring Arbor University, including teaching music history and appreciation for five summers in Bregenz, Austria for MSU's Office of Study Abroad. As a performer, I've played on stages throughout the US and abroad, and my recordings have been featured on nationally syndicated programs such as Hearts of Space and PRI's Echoes, among others.
I consider myself tech-adjacent—I'm not a developer, but I've always been interested in tech, gadgets, and the like. DOS games were a childhood staple, as my mother's career as a programmer and analyst made home computers readily available before they were so ubiquitous. These days, regarding tech, I'm working to improve my literacy in audio recording software and hardware, a seemingly never-ending quest.
I joined Up and Running part-time in 2008, transitioning to full-time years later when wanting something more stable and with a friendlier schedule. Though a different field from those where I started, I've always enjoyed the administrative aspects to any task or project. Additionally, many of the same core skills apply: self-direction, attention to detail, preparedness, adapting to new situations, writing and editing, etc. It's been gratifying to grow with the company and to see UAR flourish as it has, partnering with clients doing interesting and important work across all industries. Additionally, it's great working in a cooperative and drama-free environment in which the work itself is the focus.
Outside of UAR and family, I remain active performing, recording, occasionally teaching and writing, and always listening. If I can help you with any questions you may have, please reach out.
Read more
Shared Values
A company's foundation is what it believes in
Up and Running Software is built upon the five tenets of that Tae Kwon Do club: courtesy, integrity, self-control, perseverance, and indomitable spirit. With these, one has a framework or recipe for not only day-to-day interactions, but also a business. They play an important role in how everyone at Up and Running operates, from the developers to the executive team.
In addition, since our founding in 1995, we've learned from our colleagues and customers to lead, teach, present, motivate, be an example, help others overcome their challenges, communicate, and achieve goals by applying focus and succeeding incrementally and consistently. We apply most of these aspects everyday, and our leadership team makes it their mission to help everyone who works at Up and Running apply those same skills.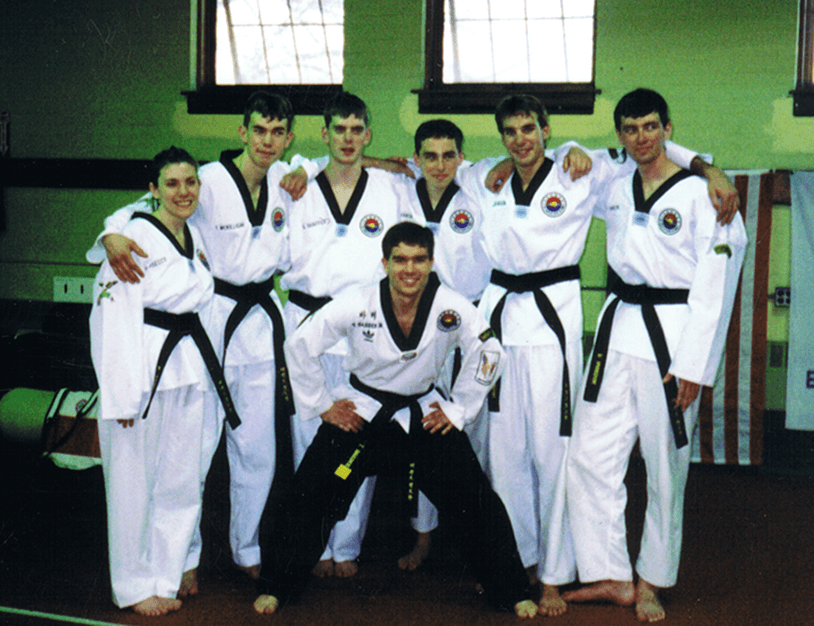 Those core values that were once shared by two members of that TKD club are the same ones now shared by a team of over 100, and we plan to keep it that way.
Everyone leads and manages
The whole company, every individual, leads some important part of the company in every action taken. We literally made our organizational chart upside down to show that the founders are in the organization to serve others, to help them succeed. Our team members are the ones who determine the success of our company because they work side-by-side with our customers. They lead efforts that directly impact people and businesses throughout the world, and we're proud of their work and the way they work.