Executive Team
Peter Hanson and Ian McKilligan, principal shareholders of Up and Running, met in Husky Tae Kwon Do, and trained together for years, earning second-degree black belts. Besides Tae Kwon Do, software and business were common topics of conversation. Ian soon joined Up and Running, and together they've been growing the company since.
Peter Hanson, CTO
I grew up in the Upper Peninsula of Michigan (100% pure Yooper here, such that I'm often mistaken for being Canadian and I know too many words for "snow"), spent some years in Missouri, and moved to Ames, IA to be closer to extended family and because my business partner moved here. My wife (a red-headed Alaskan Texan—don't ask) and I have a boy and a girl who keep our lives extra interesting. Outside of family, business, and technology, I enjoy playing tennis (3.5 and getting better!), reading, cooking, and woodworking.
Academically, I earned a degree from Michigan Technological University in Management of Information Systems while nearly earning a Mechanical Engineering degree as well. Since then, to stay in the details, I've become certified in Scrum and many other software development language certifications that I use when I'm architecting systems and helping the team to build them. I also read quite a few books each year about processes, business, and IT-related topics.
Professionally, I started my business in 1995, and, in that time, I've helped over 500 customers at my last count to achieve their business goals using technology. Up and Running Software now has about 80 team members who serve about 125 customers per year with their custom software development needs (the engines of websites, mostly). We serve predominantly repeat customers. I know tech and business, and I enjoy talking about both in an approachable, open, and solution-oriented manner. (Informally, I've earned the moniker "Smiling Pete.") Some recent highlights are that we helped: a Fortune 10 company manage nuclear inventory and procurement processes; a company help states of our nation help individuals earn their GEDs; an entrepreneur quit his day job; an established logistics SaaS B2B company reorganize its architecture, and approach programming in a more cost-effective manner; a railroad reduce its costs while increasing its compliancy score; and a client create a system to manage schedule II medications, approved by both the DEA and FDA for use. As you can see, I like helping many companies and people, and the skills—which I have learned largely thanks to the great customers who've taught me what I know over the years—transfer across industries and contexts. There should never be a dull moment for those of us who program until the AI takes over.
Now, onto the most important matters:
My first piece of hardware was a 486SX 33 MHz with 4 MB of RAM. It ran DOS 6, and didn't have Windows. I had a 14,400 modem as well, which made browsing the BBSes in the area nice and fast. With that, I could download a 200K file in about 3 minutes, and quite a few larger files overnight with the right auto-dial/reconnect software running. For the first two years of my computing experience, I just used a DOS environment. I was a teenager when I got this machine, and it was near top of the line then.
The first software program that I wrote was a batch file that used decision logic and a menu structure. The neighborhood kids would come over to play games on the 486SX computer described above. Since they didn't know DOS commands, they would constantly ask me to start a new game for them. That got tiring so I wrote a batch file that would present a menu of games that they could play. After a selection was made, it would modify any system parameters needed to play the game, and launch the application. Saved me a lot of time. Lesson learned: give recurring issues to a software developer or systems administrator. : )
Right now, to my wife's annoyance and my amusement, I'm figuring out how to automate my home as much as possible.
If you want to talk tech, whether it's for fun or business, I hope to hear from you.
Read more
Ian McKilligan, CEO
As the Owner and CEO of Up and Running Software, I am always looking to better myself and apply the learnings of those I have a great deal of respect for. I try to apply business concepts that I have learned from the likes of Peter Drucker, Tom Peters, Marshall Goldsmith (met him once at the Ross School of Business), Jim Collins, and more. I also blame and thank my grandfather who bought me a subscription to Forbes when I was around eight years old.
Besides hoping to help others through my company, I've tried hard to help people within my company with whatever they might need. Every person is different, and I view it as my job to help them do what they want to do how they want to do it. With most people, I just need to provide the means, education, or resources, and then get out of their way. By design, we have a very flat organization, and anyone may contact me for any reason at any time, which is the same approach we take with customers.
I started out in Finance, but quickly realized my path was intended to go in a different direction and changed to MIS after taking a COBOL course, which my programming time on my TI85 and Commodore 64 lightly prepared me for. Software was interesting then in what it could do at the time. Now, IT is even more interesting and evolving so fast and we're experiencing the effects of that in such an accelerated manner that it's just amazing to be a part of it. We used to have to run our systems in a rack, and I personally bought the air conditioner and UPSs for it. Now, we're helping clients make IoT systems that help anyone in the world communicate with devices to do just about anything they want to have happen; helping clients with chatbots, AI, and VR; and putting our time into making custom systems that sing just as our customers want them to. The problems are not systems now or even the Hows usually, rather the more nebulous and tricky people and organizational issues that education, processes, and good communications can lead and manage away. Once we get past those, we can make more of the forecasts of futurists and science fiction authors come true. (Well, hopefully not all of them…)
Overall, I'm a business and IT generalist, and I rely heavily on the specialists in my company to get the real work done. I'm thankful to have met some great people who want to build together. I'm also thankful to many of my professors and customers who taught us so much. If you have questions or would like to discuss anything, I'm an email or call away.
Read more
Shared Values
A company's foundation is what it believes in
If you've trained in martial arts in a good system under a good instructor, you get taught certain values and skills. We were lucky as we had a great club filled with great role models, including an instructor who served our country in the Army as a Lt. Colonel and has been a leader in many ways to many people.
We subscribed and acted according to the five tenants of our Tae Kwon Do association: courtesy, integrity, self-control, perseverance, and indomitable spirit. We still do today. With these, one has a framework or recipe for not only day-to-day interactions, but also a business.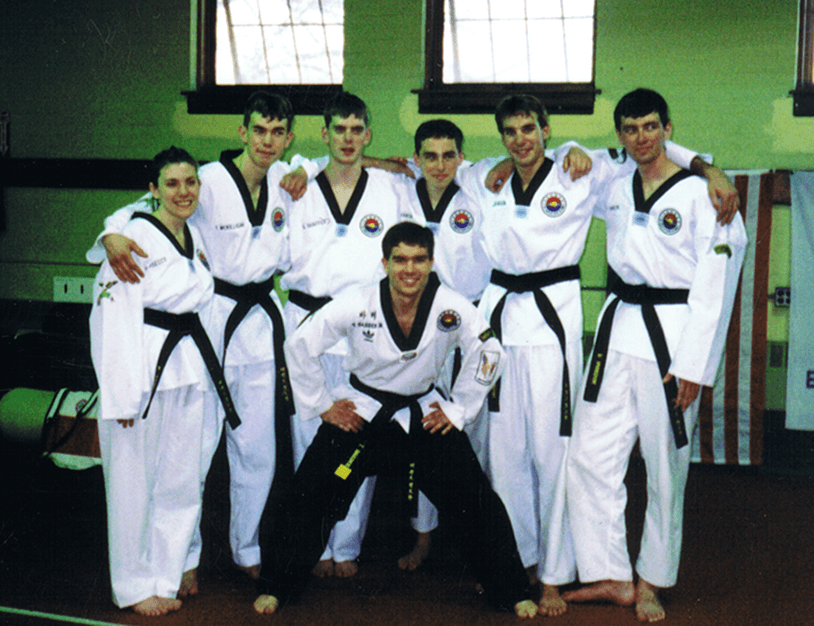 In addition to these, we learned how to teach, lead, present, motivate, be an example, help others overcome their challenges, communicate, and achieve our goals by applying focus and succeeding incrementally and consistently. We apply most of these aspects everyday in our company, and help all of our team members learn the same skills. Lastly, we spent many years working towards a goal that took dedication, teamwork, the help of experts, and hard work. We apply all of these in our business today, for our team, our customers, our families (Ian's family and Pete's family), and our growth.
Present Leadership
Everyone leads and manages
The whole company, every individual, leads some important part of the company in every action taken. We literally made our organizational chart upside down to show that the founders are in the organization to serve others, to help them succeed. Our team members are the ones who determine the success of our company because they work side-by-side with our customers. They lead efforts that directly impact people and businesses throughout the world, and we're proud of their work and the way they work.